Artist Marketing: Copywriting
This is the third article in a five-part series that details exactly what you need to market yourself as an artist and be a success.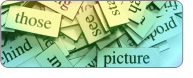 As an artist you might not think that writing could lead you to critical fame and success, but as with any business powerful copywriting can persuade and motivate customers to buy your products - in this case, your artwork. Here's what you need to know about copywriting to help you land sales and deals as an artist.
Four steps for writing winning artist copy
1. Craft a powerful headline - Your headline should evoke an emotion, memories or setting - just like your artwork. You want to put potential customers in the mood to appreciate your art and therefore create the type of desire that leads to purchases.

2. Highlight your benefits - Have you considered what the benefits are for customers who buy your art? If not, now is the time to do so - and to put it on paper. Action words are great here, such as "triumph," "revisit" and "explore."
3. Develop an incredible offer - Offer a good discount for your artwork, or create a package deal where customers get a buy one, get one half off deal or they get free prints (not originals) of your other artwork.
4. Motivate with a call to action - Finally, you need a compelling call to action that highlights your limited-time offer with urgency.
Example artist postcard copy:
Explore the Wonders of Cutting-Edge Creativity Right in your
Living Room with New Age Space Art by Your Name
Liven up your atmosphere with atmospheric vibes embedded in original wall art hand-painted by renowned artist Your Name. Explore the now and the future with the sharp lines and bright colors that have endeared Your Name's futuristic mood art to thousands of tech-savvy collectors like you.
Order your original wall art by June 1 and get a FREE 20-inch by 20-inch print of Your Name's inspirational piece, Pluto Twilight! Call 555-555-5555 or visit Your Name online at www.yournameartist.com today.