Artist Marketing: Distribution
This is the fourth article in a five-part series that details exactly what you need to market yourself as an artist and be a success.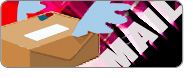 Once you have your marketing materials, you have to know when and how to deploy them. Here are some tips for artist marketing distribution:
Direct mail
Direct mail is not usually considered a way for artists to sell their work, but the fact is that if you know who your target audience is you can reap huge benefits from direct-mail marketing. The key is to compile an excellent, well-targeted mailing list full of likely customers. Then, all you have to do is send your pitch. Since many artists do not engage in direct-mail marketing, you have an edge on the competition!
Here's a sample direct-mail marketing campaign for your artist:
Week one: Send a brochure that summarizes your artistic philosophy, gives examples of your work and reviews from well-known art authorities. Remember to evoke emotion to persuade customers that they need your artwork on their walls or shelves.
Week six: Send a postcard with a special offer to receive an incentive, such as a free print or discount, in exchange for
buying one of your original pieces of art.
Week 12: Send a calendar that showcases your artwork each and every month.
Week 18: Send a booklet about home or office décor, peppered with examples of how your artwork can liven up the atmosphere.
Week 24: Send another postcard targeting your niche audience, this time with an even better but strictly time-limited offer.
Week 30: Send a greeting card thanking your buyers and invite them to keep in touch.
Advertisements
Advertise with flyers and posters on bulletin boards, billboards, walls, under windshield wipers, and as inserts in newspapers, magazines and other publications. Take out ads in radio, television, print and online programs. Deploy a street team to hand out flyers and stickers. Host/sponsor an event or publicity stunt to get free PR.
Following up
Test, track and tweak: These three Ts will help you develop winning print marketing campaigns. Always test different variations of your marketing materials on small portions of your mailing list before launching the full campaign. Sometimes a single word change can make a big difference in your return on investment.
Keep a database of clients and respondents, and evaluate recognizable trends so you can customize your pitch and allow you to make intelligent marketing decisions based on honest, proven statistics.