Artist Marketing: Creative Ideas and Resources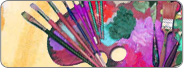 This article is the final article in a five-part series that  details exactly what you need to market yourself as an artist and be a success.
Try these creative artist marketing ideas and resources to boost your business this year:
Host an event
Host your own art gallery, art fair, art contest or other art show to get likely customers in. Since you're hosting it, you can feature your own artwork. You can also host other events to go after the same target audience: wine tastings, tech shows and just about anything else your audience is interested in will do.
Partner with others
Partner with other artists to put on a show; or to eliminate the competition, simply partner with other companies that share the same target audience. If your customers also happen to be oenophiles, you can see if the local wine store will feature discounts for your artwork.
Target businesses
Give businesses free vouchers for prints for your artwork or discounts for originals. They can give these away to employees for holiday, birthday and performance gifts.
Be always visible
Make sure you have posters, flyers, banners and other materials placed in high-traffic areas so you can brand your artwork 24 hours a day. You want people to say, "That poster would look great in my living room." Now, tell them how to get it.
Resources
Here are a few links to artist marketing resources you can use to bolster business.
PsPrint - Full-service printing, direct mailing and mailing list generation.
National Endowment for the Arts - A federally-run organization with helpful resources for artists.
Americans for Arts - Includes a special section for marketing your artwork.
ArtNetwork - Artist marketing training and resources.
National Association of Film and Media Artists - Industry-specific artist marketing.
Local, regional, state and art-specific associations - Run a search for local, regional, state and art-specific associations, councils, marketing groups, discussions boards, forums, and other resources. There are literally hundreds or even thousands of such resources for artists that can be found in just a few minutes.