Die-Cut Business Cards: Fact and Fiction
Die-cut business cards are a very viable marketing option, and one that sets you apart from the competition. Still, die-cut business cards sometimes get a bad (and undeserved) rap, mostly from people who really do not understand the power of marketing nuances. To clear up any ambiguity, here's a rundown of die-cut business card fact and fiction.
Fiction: Die-cut business cards are only for fun businesses.
Fact: Any business can benefit from printing die-cut business cards, from investment firms to candy stores. While an investment firm might not want a candy cane-shaped business card, it could make a statement with subtle rounded corners, especially if the die cut is a continuation of the business card graphic design.
Fiction: Die-cut business cards are cheesy.
Fact: Bad design is cheesy. Good design gets results. Sure, beauty is in the eye of the beholder, but business cards aren't about art galleries - they're about making connections and making sales. Die-cut business cards can exude an impressive and positive image while grabbing immediate attention that competitors with typical business cards can't achieve.
Fiction: Die-cut business cards are expensive.
Fact: You can get die cut business cards for as little as $100 more from an expert online printing company such as PsPrint - a small investment for more exposure and staying power with your prospects.
Fiction: Die-cut business cards are limited to rounded corners.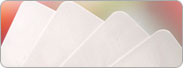 Fact: There are literally thousands of ways to die-cut business cards, and nearly any custom die cut can be made for your company's business cards. In addition, you can find nearly 50 ready-made die cuts in PsPrint's die gallery in shapes ranging from playing cards to hearts and footballs to Rolodex (which are perfect for passing out at trade events).
Fiction: Die-cut business cards do not help sales.
Fact: Business cards help prospects remember you, your company, your products and your services. Die-cut business cards garner immediate attention, making your first impression that must stronger. And, as you know, the better your first impression on a potential customer, the better the likelihood you will make a sale.
Die-cut business cards offer a distinct advantage: Most of your competitors do not use them. This is not because they do not work, but because your competitors are overlooking the power of attention-getting marketing devices. By incorporating die-cut business cards into your marketing campaign you're able to get a leg up on the competition in an area they haven't even considered.
Some enterprising companies use die-cut business cards as supplemental contact devices. They might have a standard business card they hand out day-to-day, and then specialized die-cut business cards for different seasonal sales or to help a specific brand message stand out. Clever use of die-cut business cards is one of the most economical and effective ways to make a powerful first impression and ensure that you'll be remembered when customers need the products and services you provide.