Where to Get Affordable Wedding Invitations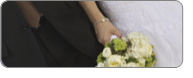 Affordable wedding invitations are easy to come by when you know where to look. Essentially, there are four places you can get affordable wedding invitations: gift and party supply shops, supermarkets, online retailers and custom printing companies. Each has pros and cons, depending on your unique situation and what you're seeking from your wedding invitations.
Gift and party supply shops
Gift shops have affordable wedding invitations, though you have to take what they sell. If your local gift shop's selection is poor, your options are limited. The benefit to purchasing your wedding invitations from gift and party supply shops is that you can get them in a pinch if you're short on time; however, you still have to hand-address and stamp each before you mail them out.
Supermarkets
Supermarkets offer the same basic benefit as gift shops: You can simply stop in and buy some wedding invitations. And like gift shops, doing so means you sacrifice originality and the convenience of having your envelopes stuffed and mailed for you. Most supermarkets also tend to have a smaller selection than gift shops, though some have made a concerted effort in recent years to beef up their greeting card aisles.
Online retailers
Online retailers have a wider selection of affordable wedding invitations, but you still have to choose within their designers' collections. In most cases, you'll order your invitations and have them shipped to you to be addressed, stamped and mailed out. Though not as immediately convenient as local gift shops and supermarkets, you don't have to leave your house to order from online retailers and you can in many cases purchase overnight shipping.
Custom printing company
Most weddings are planned well in advance, and so the convenience of instant purchasing is not necessary. And because each wedding is so unique, many couples today are choosing to design their own custom wedding invitations that showcase the core value of their relationships. Enter the custom printing company.
The proliferation of free and open source photo editing software, as well as the know-how to use it, has made it easier than ever for couples to create their own affordable wedding invitations. Armed with a digital camera and/or some Creative Commons graphics, simply download a free wedding invitation print layout template from PsPrint and fill it in with your custom design.
The benefit to custom printing companies is that you can make your own affordable wedding invitations for about the same price as buying pre-made invitations at the store. You're in control of the entire process - from images to paper stock - and can even save time and hassle by having your printing company place your wedding invitations in envelopes, addressing the envelopes, applying postage and mailing them out for you. Thus, custom printing is the best way to get personalized printing for affordable wedding invitations.