How to Print Cheap Business Cards
Cheap business cards are the best way to go whether you're on a tight budget or a large corporation with plenty of marketing capital. The reason is that it's all about return on investment - the more take per dollar spent, the better. One caveat is that you can't print cheap business cards that are also low-quality business cards - this would be antithetical to your purpose and can actually work against you by driving away customers who think your company is likewise cheap. Thus, your goal is to print cheap business cards that make you look like a million bucks. Best of all, it's easy to do when you print with the right online printing company.
Print cheap, look expensive
Cheap business cards do not have to look cheap. Start with your paper stock: a super-thick 16-point gloss cover stock or refined 13-point recycled matte cover stock give your business cards an elegant sheen that enrich your design. Moreover, these thick paper stocks are smooth and durable, so they feel stable and solid in your customers' hands. That lends the impression of stability and smooth operations to your company.
Quality inks are also important. Soy-based inks are not only eco-friendly, they're capable of producing more rich, vibrant colors than traditional petroleum-based inks. Whether you're printing a business card with a solid background or a white background with color images, logos or text, the right ink can turn your business card into a sales machine.
Quality and quantity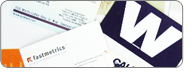 One of the best ways to control your marketing budget and print cheap business cards is to pay attention to price per piece versus overall price. Sure, you could print 200 business cards for about $45 - a rather affordable price - but you could also print 1,000 business cards for about $70. That's because as your quantities increase, you move from a digital press to an offset press and your price per piece decreases dramatically. In this scenario, you get 800 more business cards for less than $30, which is less than the price you'd spend on 200 cheap business cards alone. Increase your quantity to 10,000 and you'll spend under $300, or less than 3 cents each. Those are cheap business cards!
It's also a good idea to watch out for deals on PsPrint, which can make your business card printing even cheaper. At the time of this writing, for example, PsPrint was printing business cards for 50 percent off - which means you could have gotten 1,000 business cards for about $35 and 10,000 business cards for about $150 (or less than 1.5 cents each!). When it comes to cheap business cards, PsPrint is king. You can research different business card printing options, styles and prices instantly with PsPrint's instant price quote tool.
As you can see, printing high-quality yet cheap business cards is easy when you have the right online printing company. You might be surprised to learn that professionally printed business cards are actually cheaper than desktop-printed versions, and, of course, they look and feel much better so you can lend a professional impression every time you meet a potential customer.