Get Clients by Giving Away Printable Postcards
Printable postcards are a great way for graphic designers, or any business for that matter, to find new customers. For graphic designers, giving away printable postcards allows you to showcase your design skills and offer something valuable to potential clients. For other businesses, giving away printable postcards allows you to brand your company in a unique way - while other companies are handing out calendars and envelope labels, you can dream up amazing postcards that have impact (and carry your name). Here's how to get more clients by giving away printable postcards.
Showcase your company

As stated, you can showcase your company with printable postcards. All you have to do is create an amazing design (or hire a graphic designer to do it for you) and print postcards with blank backs. Now, give your colorful postcards away to potential customers to print the addresses and use. They'll appreciate the free postcards, as well as the ability to print and personalize them for their friends, families and business associates, and you'll be able to put your company front and center not only to them but to every postcard recipient.
Create themed postcards
People don't send postcards for just any occasion, so carefully choose your postcard themes for the best chance of resend success. Holidays such as Christmas, Valentine's Day and New Year's present great opportunities for this. Special occasions such as birthdays and anniversaries are also good, since they come around every year. You can also theme postcards around destinations, especially if you live near a tourist attraction, simply by taking a few photos of your locale.
Get sales with your company's imprint
Your company's information should be included somewhere on the postcard so that recipients know what you do, why you do it better than your competitors, and how to get in touch with you. Your printable postcards should not be marketing pieces, since no one is going to send their friends and family marketing materials for you. Instead, you can simply include this information in a discreet-yet-noticeable area - on the front of your postcard, or even in a small corner on the back of your postcard so long as it doesn't interfere with the postage and address areas.
Print premium postcards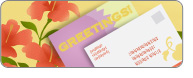 You don't want to appear cheap or your recipients will not appreciate your sentiment. Your printable postcards should be on premium papers, such as super-thick 16-point gloss cover stock or 13-point recycled matte cover stock, to add the richness, depth and thickness that will make your postcards stand out.
Just because you don't want to look cheap doesn't mean you can't print for cheap. You can print 1,000 postcards for less than $120, which represents an incredibly inexpensive investment. At that price, just two or three new sales will make the effort well worth your while.
A final note: Some customers might not be sure how to use printable postcards, so consider placing each set in a nice gift box along with instructions for running them through a desktop printer to print the addresses; or include some complimentary address sticker labels with your postcards to make it even easier for your customers to use them.