Unique Wedding Invitations for a Unique Couple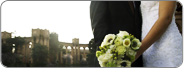 Your wedding and your love for one another are unique, so why settle for bland and run-of-the-mill wedding invitations? Instead, you can create a custom design that showcases the core principles of your relationship and is worthy of scrapbook, photo frame and wedding album display for decades. Here's how to create unique wedding invitations for a very unique couple.
Make a list
List everything you love about one another and about your relationship. Key in on the unique values you share, those that help you bond closer every day. Your unique wedding invitations will highlight these ideas through design.
Once you've made your list, identify your theme and search through stock photos and Creative Commons' graphics and images to see how you can easily design your unique wedding invitations. Consider ways to take photos of each other and together to incorporate into your design. Think about how you would like to present pertinent information like wedding time, date, location, etc.
Design your invitations

Once you have all the background information, you can download a free invitation print layout template from PsPrint. These templates are not pre-designed, but they are pre-formatted so you can print your custom design without having to worry whether the file is set up correctly. Try to come up with a unique angle for your theme. Some couples have themed weddings: goth, gangster, elves, Elvis. Others have traditional weddings with personal touches. No matter what your theme is, make use of your chosen design elements to relate it on your unique wedding invitations.
If you're short on inspiration, search online for examples of other unique wedding invitations. Remember that there's no right or wrong way to design your invitations - they are yours, and this is your special day.
Print your invitations
Once you have your unique wedding invitations designed, you need to have them printed. Fortunately, custom wedding invitation printing is rather affordable. Decide whether you'll print on a high-gloss, ultra-thick 16-point cover stock or an elegant 13-point matte (that's also eco-friendly). Add a foil stamp for prestige. For the ultimate in convenience, you can even have an online printing company such as PsPrint fold your invitations, place them in envelopes, and mail them out for you.
Always make sure you get a hard copy proof so you can see and feel what your unique wedding invitations will be like before you approve the files for the print run. Even if you think it looks great on your computer screen, it's a good idea to double check with a hardcopy proof. Last but not least, you might also want to consider having your wedding invitations finished with a thick, durable UV coating to protect against scratches, add a nice sheen, and to last for decades in your scrapbook, photo frame or wedding album.