Yoga Studio Marketing: Copywriting
This is the third article in a five-part series that details exactly what you need to market your yoga studio and make it a success.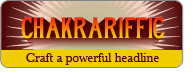 Powerful copywriting is critical if your yoga studio marketing efforts are going to lead to the big pay off. Copy motivates clients to visit a URL or pick up the phone and sign up for yoga or to pick up the gym bag and head over for classes. Without superb copywriting, your yoga studio marketing materials could be dead in the water; but with it, your return on investment will skyrocket. Here's what you need to know about how copywriting plays a role in your yoga studio marketing strategy.
Four steps for writing winning yoga studio copy
Craft a powerful headline - Your headline should solve a problem and reveal a great offer. Consider what problems your clients face: Are they stressed, inflexible or in pain? Do they want to lose weight, get in shape, or look or feel better? Whatever benefit they're seeking, your headline should clearly demonstrate that you can provide it. Add in your great offer front and center to encourage read-throughs and sign-ups.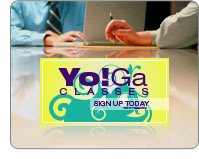 Highlight your benefits - Again, your benefits are the good results your clients can expect from taking yoga classes at your studio. Make sure you highlight them for your specific niche, whether it's seniors, pregnant women, men, working women, etc.
Develop an incredible offer - The better your offer, the more compelling your copy. It's the natural order of things. Your offer could be something for free, a discount or something else your clients value. Don't assume that just because it's free, it will be valued; and chances are you'll waste your time if your offer is irrelevant to your business (giving away a new LCD TV doesn't make sense since everyone wants one - but not everyone is likely to be your client).
Motivate with a call to action - Finally, you need a compelling call to action that highlights your limited-time offer with urgency. Provide two or three ways to respond so anyone who is interested can easily take the next step in the purchasing process.
Example yoga studio postcard copy (niche focus on pregnant women):
Enjoy an Easy Delivery with FREE Yoga for Pregnant Women
Yoga for pregnant women has been shown to reduce labor pains, speed delivery and decrease pregnancy-related stress. YogaStudio1's Pregnancy Plus class lets you enjoy all the benefits of pregnancy yoga in a fun, friendly group setting.
See how yoga can help with 3 FREE Pregnancy Plus Yoga Sessions.
Sign up by calling 555-555-5555 or visiting YogaStudio1.com before June 1 to get your 3 FREE sessions!
YogaStudio1
Relax, make friends, enjoy life.