Daycare Marketing: Creative Ideas and Resources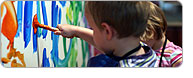 This article is the final article in a five-part series that details exactly what you need to market your daycare and make it a success
Creative marketing generates buzz, delivers value to your clientele and increases profits for you. Try these creative daycare marketing ideas and resources to boost your business this year
Creative Ideas
Host an event - Events can help you connect with your clientele by showing them what you're all about and engaging parents and children in fun family activities. Open houses are good marketing tools, but you can also host an art day, kids vs. parents activity day or other special family bonding event. Make sure you have take-away information on-hand, demonstrations or a way to schedule private appointments and/or collect name, address and demographic information so you can capture leads.
Partner with others - Consider partnering with complementary and non-competing businesses. You could split the cost of giveaways with a family fun center and hand out vouchers or coupons in return for event attendance. You don't have to develop elaborate cross promotions. Sometimes just going in together with a partner or two to decrease marketing costs is enough. For example, you could form a "Safe Kids America" alliance with a fun center, dentist or even your local police department to reduce marketing costs. A joint newsletter sent regularly could offer tips and tricks and simultaneously market your collective businesses. (NOTE: Your local police department is not likely to pitch in, but it could be a great PR move if you made the department or chief an "honorary member." If you're really lucky, you might get the department to contribute a regular tip column.)
Creative message placement - We've already discussed placing posters and flyers where your target audience is likely to see them, especially at places of work. Seek out creative marketing opportunities whenever you can. The less distraction you have from competitors and the more unique your approach, the more likely your message is to be remembered. Stickers are perfect beacons, because you can stick them in creative places. How about placing stickers on waiting room magazines, in restroom stalls or even on dentists' ceilings that say "Who's watching your kids?" and includes your URL?
Promote unique angles - Capitalize on what makes your daycare unique by applying creative naming conventions. For instance, our example Tenderfoot Daycare calls the children it supervises "Tender Kids".
Sell complementary products and services - Just because you're a daycare doesn't mean you can't upsell. Become a reseller for green or other kid-friendly products and print a take-home catalog so your parents can "keep their kids as safe at home as they are at daycare." If you have a large staff or young assistants who babysit, offer to book after-hours babysitting appointments for them in exchange for a commission. You can offer this additional service right from the front desk.
Resources
Links to daycare marketing resources you can use to bolster business:
PsPrint - Full-service printing, direct mailing and mailing list generation.
Small Business Administration - Helpful guides, forms and sample marketing plans for small business. The SBA also supports Small Business Development Centers throughout the United States.
SCORE - The Service Corps of Retired Executives provides free advice in the form of online information and business counseling. Simply contact one of SCORE's volunteer members for business mentorship.
Child Daycare Association - Resources and information for child daycare professionals.
Childcare Associations List - A list of daycare associations, including some state and regional associations.
National Association for Family Childcare - Similar to CDA, also offers accreditation.
Many local communities also have daycare associations and organizations. Run a quick Google search for your local, state and regional daycare and childcare associations and organizations for additional resources.