What Size Vinyl Banner Should I Order?
Vinyl banners are powerful marketing devices for any industry and can be deployed in almost any marketing scenario: draped on walls, suspended over streets and hung from poles anywhere. Vinyl banner sizes vary greatly, and it's important to know what size vinyl banner you need before you order - even before you set out to design, because the size of your banner will dictate the size of your fonts and banner graphics. The following details one method you can take to determine the best vinyl banner size for you.
Measure the location
Grab a tape measure and go on-site to measure the exact dimensions of your banner location. If your banner will be suspended over a street find out the distance between utility poles or whatever you're using to hang your banner from. On the side of a building? Make sure you measure between the windows. On a festival booth? Measure the length of the table.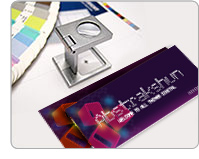 Once you have your measurements, decide how much of your available area your banner should take up. Bigger is often better, but only when it does not obscure another important feature. Using our festival booth example, a vinyl banner that is so large it obscures a menu would not be a good idea - unless of course the banner has the menu printed on it.
If your banner will be hung from poles with an undefined available area, try to imagine the environment around you. A lawn concert, for example, will have hundreds or even thousands of people milling around - so you'll need a banner big enough to position high enough to get noticed from a distance. Consider a few measurements and recruit a couple of people to stand specific distances apart, with their hands held to specific heights, to ascertain the best banner size for your venue. One popular size for this type of use is 4-feet by 10-feet, but banners can be ordered in sizes ranging from 1-foot by 1-foot to 8-feet by 100-feet.
Run an intelligent price check
A good rule of thumb when it comes to vinyl banner sizes is to order the largest banner that fits in the available area that you can afford. But pricing banners can be tricky, since quality levels and potential return on investment ultimately dictate how much your banners cost.
Look at it this way: you can print cheap vinyl banners printed on poor materials, but if you only get 10 uses out of them before they're ruined by wear and tear you haven't been able to maximize your return on investment. On the other hand, if you spend a little more for premium materials and get 100 uses out of each banner, your investment lasts much longer and your return on investment will increase. Thus, if you can get a premium 4-foot by 10-foot vinyl banner for around $220, and get to use it 100 times, you're only spending around $2.20 per deployment. That's cheap advertising!
Size your design accordingly
Once you've determined the right banner size at the right price, you can set out to design, print and finish your banner. Pay close attention to the size of your banner design, which should be easily recognized, read and understood from a distance. One-inch-tall letters might seem large to you up-close, but on a 4-foot tall banner they'll be hard to read from more than a couple dozen feet away.
If you're not sure, print some large letters on computer paper and pace off the distance of your viewing area - if you want customers to be able to read your banner from 100 feet away, you should be able to read your letters from that same distance. Conversely, if your customers will be up-close, you don't want to make your letters so large that they can't be read from 5 feet away.