Artist Marketing: Branding
This is the first article in a five-part series that details exactly what you need to market yourself as an artist and make be a success.
If you're an artist, you might find yourself bored with the concepts of marketing and advertising. But if you want to be a paid artist, you have to brand your image in order to attract a loyal following that keeps your pockets full. Branding yourself as an artist means to find your identity based on your artistic style, subjects, themes, trends and other influences. It is to tell your story as an artist, so that your artwork is ultimately referred to as "a [your name] piece." Thus, the following imparts wisdom you'll need to make the leap to an artist whose work is admired by thousands and whose bank account grows with each mounting sale.
Importance of a branded image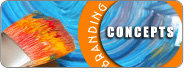 In addition to being recognized for your distinct style - when others can put your name with a piece of art without seeing your signature - branding yourself as an artist gives you a very distinct advantage: you can market directly to your target audience.
This means that both online and off, you can deploy advertisements, direct-mail marketing campaigns, banners, signs, stickers and promo items in the publications your likely customers read, the websites they visit and the places they go. After you've made a few sales, you should be able to identify the type of person who appreciates your artwork, and thus you can use your own artwork as advertisements.
Design a logo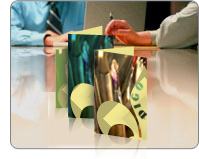 For even more brand power, create a logo that represents you and your work. It could be a symbol or simply your signature, so long as it is unique to you. Include your logo on everything you do, from your artwork itself to the mediums you use to advertise it, to the letterhead you use in communications and your website. Soon, your logo will become synonymous with your artwork, and you can easily promote your booth at galleries and art shows, your website and your body of work that is for sale.
Your brand should stand for who you are and what you represent on a personal level as well as what your artwork represents. What emotions does your work stir? What words describe and define you and your art? Your customers will appreciate your work more if they relate to you, and they'll be proud to open their wallets for the opportunity to display your work in their homes and offices.