Artist Marketing: What Do You Need?
This is the second article in a five-part series that details exactly what you need to market yourself as an artist and be a success.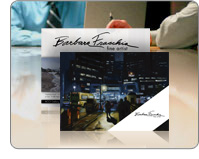 Marketing yourself as an artist is no different than a business marketing a product or service. You are essentially marketing both: a product for completed work and a service for those who would like to hire you to do their projects. Networking is one of the best ways to market yourself as an artist, and you can do this by entering (and winning) competitions, sending specs to publications, and attending art galleries and other social events. But if you want to directly market to your customer, you can circumvent the system by deploying the following marketing materials.
Must-have artist marketing materials
Posters - Posters are a great way to show the world your artwork and entice them to make purchases. Turn your posters into prints of your artwork and invite customers to buy the originals or prints for their own homes and offices from your website or gallery.
Business cards - Business cards must be handed out to everyone you meet. Even if the person you hand it to isn't an art collector, they might know someone who is. Include images of your artwork on your card - design your own!
Postcards - Once you truly understand your customers, you can create a mailing list that opens the door for direct-mail marketing. Send a postcard that features your artwork and your philosophy, and invite prospects to take a "tour" of your online gallery.
Flyers - Flyers are mini-posters that can be placed under windshield wipers, on community bulletin boards, on windows and walls, and just about anywhere else your customers are likely to see them.
Calendars - Calendars are a perfect way to showcase your talents - and how to buy your artwork - 365 days a year. They offer plenty of bang for the buck, since your customers will appreciate and actually use them every day.
Website - Your marketing needs to drive your customers somewhere and a website is the logical place to take orders and provide contact information for your work-for-hire services.