Landscaping Marketing: Ideas and Resources
This article is the final article in a five-part series that details exactly what you need to market your landscaping business and make it a success.
Creative marketing generates buzz, delivers value to your customers and increases profits for you. Find inspiration for marketing your landscape business in the following ideas:
Creative ideas
Host an event - Offer a valued customer free services in exchange for allowing you to host a demo on their property. Walk your audience through so they can experience your work first-hand, and ask them to bring photos of their homes for instant concept sketches. Have take-aways on-hand and representatives to schedule consultations on the spot.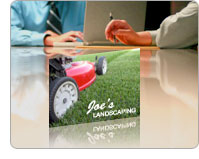 Partner with others - Non-competing, complementary businesses can fuel profit. Construction crews, masons, greenhouses, and other businesses might prove to be perfect partners in profit. Develop a multiple service package or offer a discount to those who have purchased from your partners. This is also a great way to build your mailing list.
Promote unique angles - Instead of simply saying you trim hedges, try giving your services unique and memorable names: "Prim 'n Property" might work, for example.
Resources
Links to landscaping business marketing resources you can use to bolster business:
PsPrint - Full-service printing, direct mailing and mailing list generation.
Direct Marketing Association - Information on direct marketing.
Small Business Administration - Helpful guides, forms and sample marketing plans for small business. The SBA also supports Small Business Development Centers throughout the United States.
SCORE - The Service Corps of Retired Executives provides free advice in the form of online information and business counseling. Simply contact one of SCORE's volunteer members for business mentorship.
Landscape Industry Online - Touted as the premier resource for the landscape industry.
American Nursery and Landscape Association - Industry information, including landscape marketing.
In addition, many states have landscaping associations. Try a Google search for your state (i.e. "California Landscaping Organization") for additional resources.