Placing Posters for Profit
Posters are one of the absolute best marketing tools for two simple reasons: 1) they get noticed; and 2) they affect many people at once. To top it off, posters are extremely economical to print. Like all direct marketing, the key to poster success is to have eye-catching design that grabs attention, scintillating copy that sells an offer and motivates with a call to action, professional appearance through high-quality printing and intelligent distribution. Read on to learn how to place posters for profit.

Know your audience
Knowing your target audience is essential to successful postcard placement. Find out where your ideal customers go, what they do, how they travel, and what they enjoy. If you know where your customers are going to, coming from and how they're getting there, you can strategically place your posters along the way.
Avoid the competition
You've undoubtedly seen bulletin boards where competing business tend to cover each others' posters and flyers up day after day, week in and week out. While you should hang your poster where the public expects it to be, the hide-and-seek game is counterproductive. To get a leg up on the competition, place your posters in areas your competitors don't. Do college students take a shortcut down a well-know alleyway? That's one place. How about in the hallways of the local office plaza? There's another.
Keep it local
Some marketers think that posters are only for outside marketing, but they can be just as effective inside your retail store or office as well. Think about the athletic shoe companies that place posters around the upper portion of their interior store walls, or the banks that scatter service-oriented posters throughout their buildings. These businesses have many options to offer their customers, and use posters to motivate questions or to highlight specific choices customers might not have otherwise considered. It's like a passive upsell!
Go municipal
More and more municipalities are renting ad space on public-owned buildings, at parks, on dumpsters, and many other creative places that your competitors probably haven't thought of. Consider contacting your local officials to see if you can rent some ad space. Most people don't expect to see advertisements in these areas, so you'll get an instant double-take and increase the likelihood that you'll motivate a response. If nothing else, this is a great way to enhance your brand-image recognition.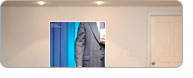 For the best results, print your posters on professional-grade paper stocks such as 16-point or 100-pound gloss cover stock or 13-point matte cover stock, which is available as an eco-friendly recycled paper from PsPrint. These papers add a professional touch that lends credibility to your business, no matter where they're placed.