Unique Presidents Day Graphic Design Ideas
Presidents Day, or Washington's Birthday, is so designated to honor the elected Commanders in Chief of the United States. It's also a hot time to market early spring sales, so many graphic designers are busy working on patriotic images of George Washington, Abraham Lincoln and other past presidents. These are all good Presidents Day design themes, but if you want to be truly original and stand out from the crowd you'll have to go with something different - perhaps a bit off-keel - this year.
Try the following unique Presidents Day graphic design ideas for inspiration:
Incorporate lesser-known Presidents

Many of your competitors' President Day print marketing materials will bear the likenesses of Washington and Lincoln. Be original and choose a different President for your centerpiece. Research the various presidents to identify historical facts that you can relate to your clients' business.
Teddy Roosevelt, for example, would be a good posthumous spokesperson for a hunting supply because he enjoyed hunting wild game. Jim Beam once placed an advertisement in Maxim that stated: "President Truman drank a glass of bourbon every day. Then he kicked the commies out of South Korea." You can run a similar promotion for your client's campaigns.
Color yourself patriotic
Red, white and blue are the mainstay colors of Presidents Day, but that doesn't mean you have to stick to images of the American flag and Uncle Sam in your marketing designs. Be creative and color your logo and other collateral red, white and/or blue to match the patriotic theme. The effect is twofold: You not only get to identify your promotion as a time-limited Presidents Day offer, you also demonstrate that your company is patriotic and American - something that can also be very important to your customers.
Build monuments
One neat thing you could do with your flyers and other printed materials is to have them die cut into the shape of national monuments such as the Washington Monument, the Lincoln Memorial, the Jefferson Memorial or Mount Rushmore. Die cuts always stand out from the competition and carry more poignancy for your customers. They leave lasting images, and so are worth the relatively minimal investment when compared to potential return on investment through getting more attention from your target audience.
Go contemporary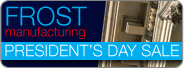 So many Presidents Day designs play on centuries-old history that you can be unique and stand out from the competition simply by being contemporary in design. Instead of Washington and Lincoln, why not Barack Obama and George W. Bush? Contemporary presidents, history and issues can captivate your audience and appear more pertinent to the here and now. Plus, there's already a ton of free public domain material you can incorporate into your graphic design. So, you don't need to arrange a photo shoot with the standing president in order to use his image in your graphic designs.
Remember that the quality of your designs can be enhanced or compromised depending on the quality of the print job, so make sure you choose a high-quality, affordable online printing company to print your Presidents Day postcards, catalogs, flyers, brochures and banners!