Simple Fonts for a Winning Color Newsletter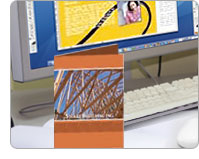 Full-color newsletters add impact and boost returns on investment for any business. If you want to expand your customer base and encourage repeat business, you must take special care with your newsletter design. Newsletters are mailed directly to customers, so they compete with all the other mailbox literature for attention. One way to enhance the first-glance attraction of your newsletters is to use easy-to-read fonts. Proper typeface usage commands and keeps attention and will help your customers read your newsletter front to back.
Here are a few easy-to-read fonts that can be used in a winning color newsletter:
Times New Roman
Times New Roman is one of the best fonts for printed materials, especially newsletters. When it comes to print publishing, sans serif fonts (without tails) are often used for headlines while serif fonts (with tails) such as Times New Roman are usually employed in body copy. Times New Roman stands its ground in both headlines and body copy and is a well-recognized all-around choice.
Arial
Arial is another good choice for your newsletters, particularly for headlines. Even though body copy is typically typed with a serif font, the sans serif Arial can look great in pull out boxes, charts, graphs and other supplemental information. Sans serif fonts such as Verdana and Georgia were created for computer screens and are not often employed in printed newsletters. Still, it's worth experimenting to see what works best for delivering your message.
Standard fonts
Traditional fonts are quick and easy, but if you want to add a touch of personality and class to your newsletters you might want to try newspaper industry staples such as Franklin Gothic, Times, Century and Helvetica. Many of the nation's top newspapers employ these fonts in headlines and body copy because they are easy to read and carry weight. They attract attention yet are economical to employ.
Unusual or customized fonts
For additional flair, you can experiment with fonts such as Minion, Stockholm, Ambroise, Freight and ARS Maquette. These fonts are not used in many publications and can help differentiate your newsletter from the rest of the pack because they're powerful, yet still easy to read.
For the ultimate in newsletter customization, you can design your own font. A unique and well-deployed font can earn brand recognition across all advertising mediums, not just newsletters.
No matter what font you choose for your color newsletters, settle on no more than two or three fonts to use throughout your publication. Different fonts can key readers into important sections, but using too many makes newsletters seem jumbled and confusing.
How you say your message is just as important as the message itself. Easy-to-read fonts strategically employed throughout your newsletters can set the tone for your company and distinguish an image of expertise and quality.